23.03.2010


Helene Dujardin
(Senior Editor)
Rising up, root vegetables weren't something my mother would cook in general. Moreover for potatoes and carrots it used to be swish significant never if truth be told. Too many turnips and rutabagas all over the shortages of World Struggle II made my mother a diminutive reluctant to order them, even a protracted time later. I don't enlighten my dad would relish minded in any respect. He never minds the rest he can eat. That's what I admire about him. He's continually game to exhaust a sight at unique things. Mother too don't gain me immoral. Even crimson soup.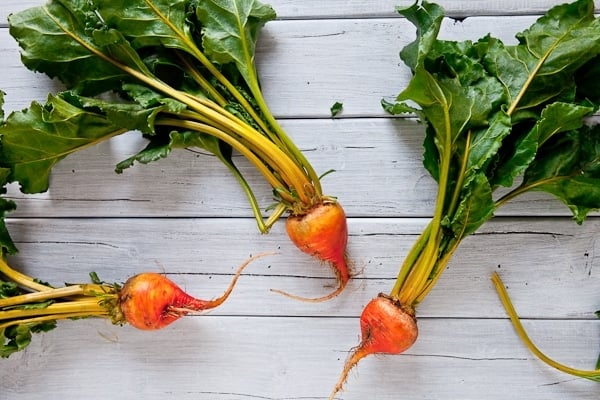 Yes, seems like I did channel my interior Bridget Jones when I build a bunch of roasted vegetable within the blender and walked away for a minute to expose some dough. You gaze, after an okay venture into blitz gluten free puff pastry with Shauna in Seattle about a weeks ago, mother and I if truth be told relish been working on cracking our relish puff pastry code. Her nicely being situation advantages from a diminutive much less gluten too and it's been if truth be told fun to achieve again up with gluten free versions of her favorites. Seeing what Jeanne did, I do know we'll gain there.
Right here I used to be, giving our doughs one final turn when I heard my mother meander "hmmm…sweetie. The soup is crimson. Did you gain it crimson on reason?" Ugh no…shoot! Wait! What did I attain? Who is going to desire to eat crimson soup? "Oh no! Les betteraves rouges! (the purple beets!) I forgot to exhaust away the purple beets!" I had roasted a mix of root vegetables for soup, pushed some purple beets to the corner of the pan for a salad and as a substitute factual dumped the total ingredient within the blender. Hence, the crimson soup and B. calling me Bridget when he saw it.
There's continually one kitchen blooper when my parent attain discuss over with. Too many things, too many languages occurring right this moment. Too many jokes and giggles. And there you relish it, really appropriate one of us has a brain freeze. Or two.
But they relish me, discombobulated or now not, and ate the crimson soup. Yes, Invoice ate beets. Other folks in Charleston indubitably didn't feel the earth atomize from it nevertheless we did. The truth is we held our breath as he looked laborious at the soup in front of him. "Bright. I don't enlighten I if truth be told relish ever had crimson soup sooner than." I told him it used to be a bunch of roasted root vegetables, including roasted purple beets. "now not pickled? now not boiled? now not raw?" he requested. As I shook my head negatively three conditions in a row, he exclaimed "Effectively then. It's beautiful. Gorgeous as it is. Bridget."
The soup is a mix of parsley roots, celery root, sunchokes, golden and purple beets, potatoes. So that you simply can add some depth, I added roasted garlic and oregano from our backyard. I saved one sunchokes that I sliced thin and pan fried in moderately olive oil unless golden brown to garnish the soups with and served them with gluten free English truffles. The nex day we had leftover with freshly picked crab and gluten free puff pastry croutons (!). It used to be a hit with everyone which made me wish I had made an even bigger batch appropriate from the beginning.
P.S: My brother says "thank you" for the total birthday wishes. You if truth be told made his day!



Roasted Root Vegetable Soup:
Serves 4 to 6
6 parsley root, peeled and diced

1 medium celery root, peeled and diced

2 potatoes, peeled and dice

3 golden beets, peeled and diced

3 purple beets, peeled and diced

3 garlic cloves, smashed, pores and skin eradicated

1 spring oregano

6 sunchokes, peeled and diced

1/4 cup olive oil

salt and pepper
Jam the total vegetables in a gigantic bowl and drizzle with the olive oil, salt and pepper to type and blend nicely. Jam them all in a gigantic roasting pan and roast at 375F – 400F unless cushy and golden brown. Defend from the oven, exhaust away the oregano (discard) and let chilly fully.

As soon as cooled, convey the total vegetables in a blender and add as significant as diminutive water as you adore to achieve the soup consistency that you simply engage (we like ours on the thick aspect) and puree unless cushy.

To serve, reheat as wanted and serve with bread, croutons, oregano leaves, and heaps others…