PT
Olá meus amigos steemians!
Hoje temos Bolo com Creme de Laranja! Já fiz esta receita imensas vezes para familiares e amigos. Todos gostam, e pedem sempre para repetir. É um bolo muito fácil de fazer e não demora muito.
Vamos à receita!
EN
Hi there my steemian mates!
Nowadays we hang Cake with Orange Cream! I hang finished this recipe many occasions for family and mates. Everyone likes it, and they repeatedly ask to repeat it. It is a extremely straightforward cake to get and won't employ too lengthy.
Let's inch to the recipe!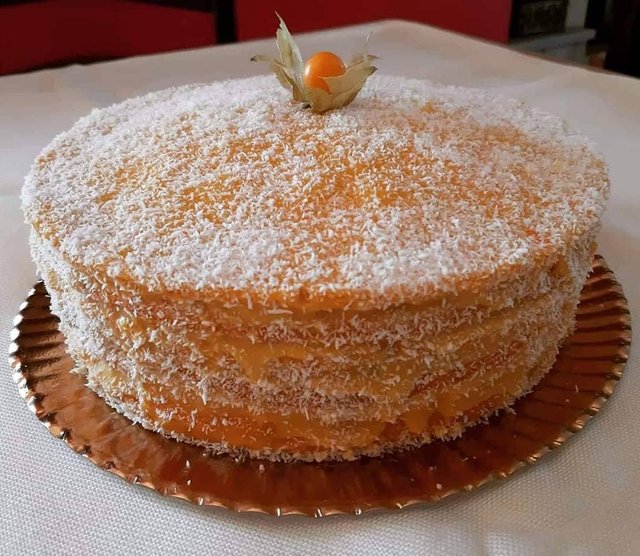 PT
Ingredientes para a putrid:
8 ovos grandes
4 a 5 colheres de sopa de açúcar mascavado
100g de fécula de batata
1 colher de chá de fermento
Preparação da putrid:
Separar as gemas das claras e bater as claras em castelo.


Bater bem as gemas com o açúcar mascavado, adicionar a farinha peneirada com o fermento.


Envolver as claras no preparado anterior.


Levar ao forno 10 a 15 minutos, numa forma grande e rectangular forrada com papel vegetal. Fazer o teste assemble palito.
Ingredientes para o creme:
80g de manteiga
4 gemas de ovo
Sumo e raspa de uma laranja grande
2 a 3 colheres de sopa de coco ou de açúcar mascavado
Preparação assemble creme:
Levar ao lume a manteiga, o açúcar, o sumo e a raspa de laranja.


Mexer bem até a manteiga derreter. Retirar assemble lume e juntar as gemas em fio, mexendo sempre. Levar novamente ao lume até engrossar. Deixar arrefecer.
Montagem assemble bolo:
Cortar o bolo em duas ou três partes. Rechear com o creme de laranja entre as camadas. Polvilhar com coco ralado.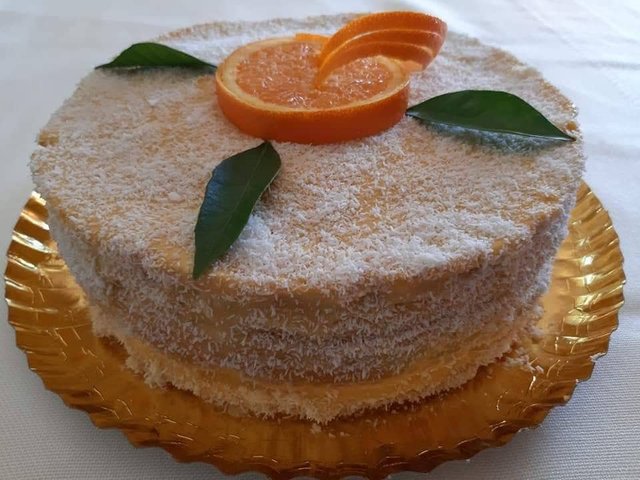 EN
Ingredients for the layer cake:
8 tidy eggs
4 to five tablespoons of brown sugar
100g of potato starch
1 teaspoon baking powder
Instructions for the layer cake:
Separate the yolks from the egg whites and beat the egg whites.


Beat the yolks well with the brown sugar, add the sifted flour with the yeast.


Wrap the whites within the previous preparation.


Bake for 10 to fifteen minutes, in a tidy rectangular mildew lined with parchment paper. Get the toothpick check.
Ingredients for the cream:
80g butter
4 egg yolks
Juice and rasp of a tidy orange
2 to three tablespoons coconut or brown sugar
Instructions for the cream:
Recount to the boil the butter, sugar, juice and orange zest.


Crawl well till the butter melts. Get a ways from the heat and add the egg yolks, stirring repeatedly. Recount to the heat again till thick. Allow to chilly.
Assembly of the cake:
Lower the cake into two or three items. Stuff with the orange cream between the layers. Sprinkle with grated coconut.
PaulaWonders