Beef
Pork Tenderloin with Citrus–Crimson Pepper Chutney
Tried of turkey and ham at Christmas dinner? Save that flavorful crimson meat tenderloin with delicious crimson pepper chutney.
Commercial – Proceed Learning Below
1 tbsp. vegetable oil
2 tsp. coarsely flooring black pepper
1/2 tsp. flooring coriander
3 tsp. mustard seeds
1 crimson meat tenderloin
kosher salt
1/2 c. orange marmalade
1/4 c. white wine vinegar
3 tbsp. sugar
1 tsp. fennel seeds
2 oranges
1 1/2 c. chopped roasted crimson peppers
Instructions
Step

1

Preheat oven to 450 degrees F. Line roasting pan or jelly-roll pan with foil. Add roasting rack to pan.

Step

2

In medium bowl, poke collectively oil, pepper, coriander, and a pair of teaspoons mustard seeds; rub in each place tenderloin. Sprinkle crimson meat with 1 tablespoon kosher salt. Yell crimson meat on rack and roast 40 to 50 minutes or except desired doneness (140 degrees F for medium-uncommon). Hide loosely with foil and let relaxation now not now not up to 10 minutes Earn and discard string.

Step

3

In the intervening time, in 2-quart saucepan, warmth marmalade, vinegar, sugar, fennel seeds, and supreme 1 teaspoon mustard seeds on medium-low simply except marmalade melts, stirring to combine. Earn from warmth; let chilly.

Step

4

While chutney cools, from oranges, lower and discard peel and pith; lower out segments between membranes. Paddle orange segments and crimson peppers into chutney. Yell crimson meat on platter; garnish with bay leaves and red peppercorns. Help with chutney.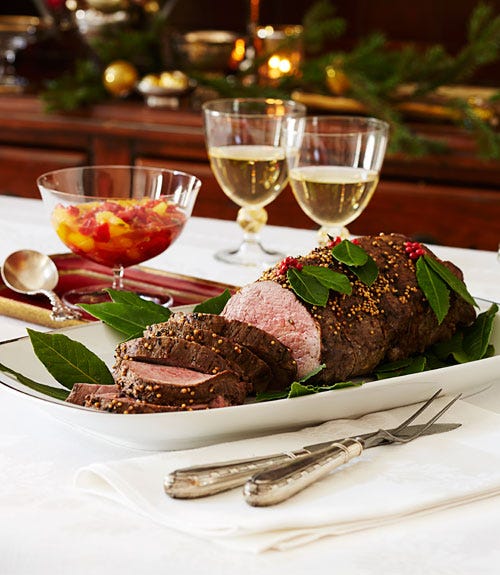 Kate Mathis