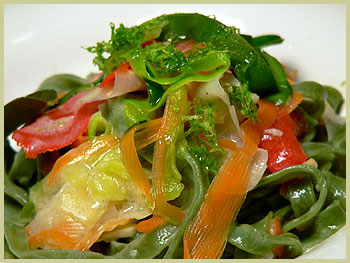 Replenishing in greens and indulging in the sweetness of coconut, with advantageous zest added by lime. On this past Sunday night, right here is precisely what we felt like eating. A extremely light pasta dish with heaps of nutritional vitamins. Perchance the weekend had been rough? Lightness, playfulness and easiness had been key. I determined to develop tagliatelles with greens in a coconut lime sauce.
Pasta is a favourite of mine, effectively like many foods truly, so right here isn't very a demanding preference. I nonetheless like pasta barely assorted from the venerable sauce added to it, and gain to try contemporary combos of flavour and texture.
For the recipe below, I needed so that you'll want to add an Asian contact but furthermore determined to play with colours and texture as I scale back the vegetables in prolonged thin strips, so that they looked appropriate like vegetable peels. With lime added it used to be the acceptable meal for our slothful Sunday night mood.
You'd like
New pasta 12 oz (340 g) – I passe Spinach tagliatelles

2 medium carrots
2 minute zucchinis
1 minute celery root
1 crimson pepper
5 garlic cloves
Ginger root (about 1 tbsp chopped)

3 Kaffir lime leaves

1 lime and its zest
400 ml coconut milk (2 cups)
1 tbsp sesame oil
2 tbsp fish sauce
New coriander
New pepper to taste
For the vegetables



-1-Take a vegetable peeler, and after washing all vegetables and peeling the celery root and carrots, develop prolonged vegetable peels. You will not need the total celery root or pepper, but as remarkable as 1/2 cup of every.



-2-Take a steamer and situation the vegetables in the close fragment. Steam them for about 10 mns or less. Succor them heat on the side.
For the pasta and the sauce



-3-Cook the pasta in accordance along with your equipment instructions and defend it heat on the side.



-4-Peel the garlic and sever it thinly.



-5-Peel the ginger root and sever it thinly.



-6-Take a mammoth saute pan and heat the sesame oil.



-7-Add the ginger and garlic and cook on medium heat until softer .



-8-Then add the coconut milk, lime zest and kaffir lime leaves. Let cook for 10 mns on medium heat. After this time, add the fish sauce and enact with the lime juice.
-9-Season with pepper to taste.
-10-Add the pasta and vegetables to the sauce. Decorate with additional lime zest.
-11-Aid immediately with contemporary coriander.