Beef
Purple meat Stew Casserole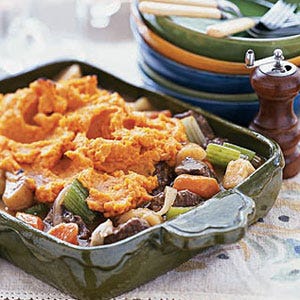 Impress Thomas
Commercial – Proceed Studying Under
1 1/2 lb. 1-in. cubes beef chuck (for stew)
1/4 c. all-cause flour
1 1/2 tbsp. vegetable oil
2 can beef broth
1 big onion
1 tbsp. minced garlic
3 lb. miniature sweet potatoes
1 lb. every carrots and parsnips
3 ribs celery
1 tbsp. stick butter
1/4 tsp. salt
Directions
Step 

1

Self-discipline racks to divide oven in thirds. Warmth to 325°F.

Step 

2

Coat beef with flour. Warmth oil in a Dutch oven over medium-high heat. Add beef and brown. Add broth, onion and garlic; bring to a boil. Quilt tightly and relate stew on one oven rack, potatoes on varied rack. Bake 30 minutes.

Step 

3

Reduce carrots, parsnips and celery into 1-in. lengths; dash into stew. Quilt and bake 45 minutes or till soft when pierced.

Step 

4

Peel potatoes and mash with butter and salt. Bake and wait on or cold, quilt individually and refrigerate as a lot as three days.

Step 

5

To wait on: Warmth oven to 400°F. Skim elephantine off stew, then spoon into a shallow 3 1/2-qt baking dish; unfold potatoes over top. Bake 50 minutes or till bubbly around edges and hot in heart.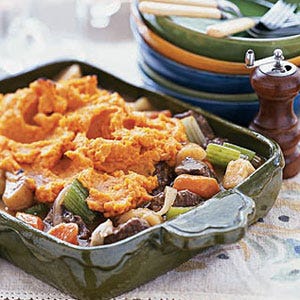 Impress Thomas
Commercial – Proceed Studying Under
Commercial – Proceed Studying Under